XLTest: Spreadsheet testing and auditing add-in
XLTest helps you to check the integrity of your spreadsheets far more quickly than with tedious cell-by-cell inspection. Its colour maps of the worksheets give you a visual overview that enables you to very quickly see inconsistencies. Its detailed listings are ideal for audit record purposes. The ability to compare versions and run test cases facilitate compliance with spreadsheet controls.


Buy XLTest 1.55 for Excel 2007 / 2010 / 2013 now from Paypal.
XLTest Free Edition: download the free version (1.8MB Zip file) to evaluate the formula colorizing feature.

To try a FREE time limited evaluation copy, or to see the full manual, please contact us
Buy now using PayPal which accepts most payment cards. XLTest will be sent by email in a zip file with documentation and sample workbooks.
If your email system blocks zip files, please contact us to agree an alternative method of delivery.
Volume discounts are available, currently:
All prices are in euro, plus VAT currently 23% in Ireland
Single user: 299
Five users: 922
Ten users: 1499
Twenty users: 2434
Forty users: 3955
Training as a separate option is available at 700 euro/day.
The XLTest menus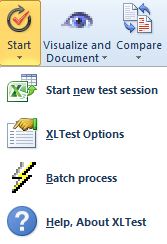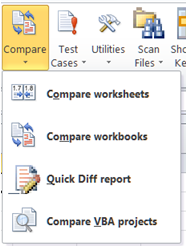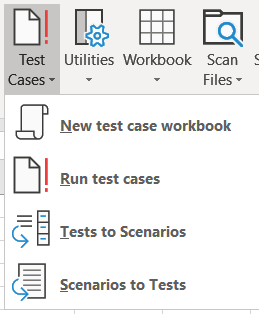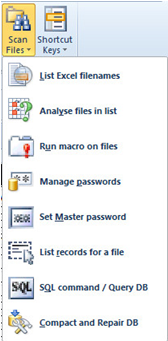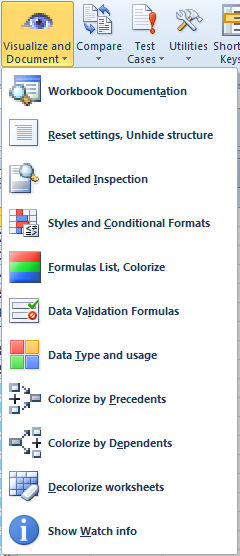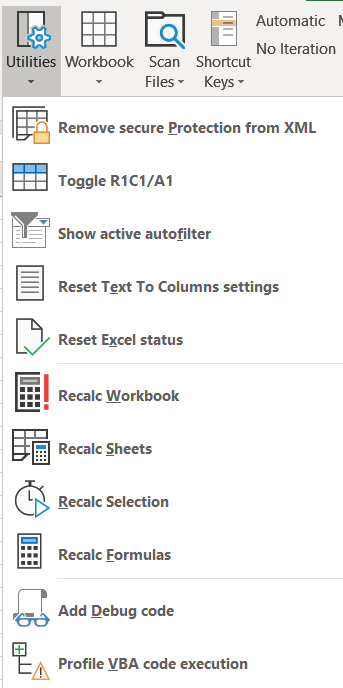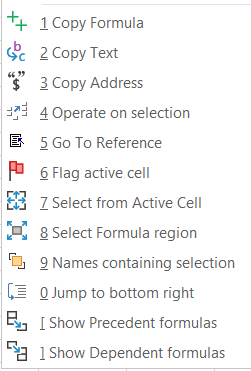 XLTest also provides 14 extra functions that you can use in your spreadsheets.
Features


Sample screenshot
Start new test session: Open workbook for testing, start new log, $APP sheet
Create $DOC sheet for Workbook documentation



Settings, Table of Contents, Properties, Internal and External links, Onactions, VBA statistics, Defined names, Styles, Number Formats, Cell comments, Flagged notes, Scenarios.

Reset workbook settings, hidden rows, columns, sheets
Create $INF sheets of detailed cell inspections


This creates a sheet $INF that summarises the warnings on the sheet. The addresses are hyperlinked to a named range referring to the cells. The sheet lists the #Error values, the error and warnings checks, some formula statistics, a list of functions used, any circular reference chain, and the number formats in use.

List / Colour cells by distinct formula (R1C1)


Shows inconsistent formula blocks




List / Colour Conditional Format Formulas
Shows inconsistent conditional format rules

List / Colour Data Validation Formulas


Shows inconsistent validation rules




Colours cells by data type and input/output usage



Colour by Precedents location

This sheet, this book, External.

Colour by Dependents location or count

Colour by Number Format



Shows inconsistent formatting

Watch: Keeps an info window open on current selection


Shows details of cell content, format, validation, range name, etc

Flag active cell for a table of contents
Add supporting sheets: $Readme, Palette, Table of Contents sheets
Unprotect sheet


Bypasses worksheet contents protection password

Compare two workbooks (same named sheets)


It also compares VBA code.

Compare two worksheets

Save Copy As (saves a copy of the current workbook)





Options for what to search for when documenting
Help on colours and keyboard shortcuts
Run Test Cases and scenarios


XLTest can execute a set of test cases on a target workbook and stores the result of each test. You can use this for regression testing to verify that a new version performs the same as before, except of course for what you expect to have changed.

Reset Excel's Text to Columns parsing

Delete Custom Styles

Delete Unused Number Formats

Utilities to navigate sheets and handle data.




Copy Formula; Copy Text; Copy/Move selection; Go To Reference

Flag active cell; Select from Active Cell; Select Formula Region

Jump to Bottom Right of worksheet

Batch autotest process


Runs all the above tests in a batch on all the worksheets of a workbook. It saves copies of the workbook with each colouring scheme.






Export / Import VB Components
Send VB source folders to Diff/WinMerge for comparison
New in version 1.5:
Scan folders for Excel files
Perform summary analysis
Store and compare audit results in database


User defined Functions
XLTest provides these functions for use in your spreadsheets.
| | | |
| --- | --- | --- |
| Function | Description | Example |
| ColorName( Colorindex ) | Return color name from index | =ColorName(1) |
| USTDate( date ) | Convert text mm/dd/yyyy or mm-dd-yyyy to a date | =USTDate("12/1/2008") |
| EUTDate( date ) | Convert text dd/mm/yyyy or dd-mm-yyyy to a date | =EUTDate("12/1/2008") |
| TextToDate( text, format ) | Convert text to date specifying order and delimiter | =TextToDate("08-02-09","mdy-") |
| IsLike( text, pattern ) | True if Text matches Pattern regular expression | =IsLike("abc@def.ghi","*@*.???") |
| Alphas( text ) | Returns alphabetic characters in Text | =Alphas(B5) |
| Numerics( text ) | Returns numeric characters in Text | =Numerics(K5) |
| TextToValue( text, [minus], [decimal] ) | Converts text to number, optional negative and decimal symbols | =TexttoValue("12.3-") |
| GetFormula( cell ) | Returns formula in a cell | =GetFormula(K9) |
| JoinValues( range, delimiter ) | Concatenates range to a string list | =JoinValues(G2:G15,",") |
| SumN( range ) | Sums non-formula numeric cells | =SumN(A1:K10) |
| FileSize (filename ) | Returns size of a file given its name | =FileSize("test103.xls") |
| DateModified( filename ) | Returns modified date of a file given its name | =DateModified("somefile.xls") |
| DirFile( fileno, dirname, [attrib] ) | Returns the file name in the given position a directory | =DirFile(1,"xl*.xla") |

_______________________________________________________

Contact us for more information
_______________________________________________________