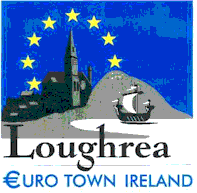 The Loughrea Euro Town Project is a demonstration project whereby the business community throughout Ireland will learn from the experiences of businesses in Loughrea as they change over to business to business euro-based trading on an accelerated basis. Loughrea is a small town in County Galway in the west of Ireland.
The project will run until October 2000 and involves 30 local businesses who are being supported in their changeover efforts in terms of information, advice and training. Solutions and processes proposed by the state technology agency Forfás as part of the national EMU Business Awareness Campaign can be tested out in practice on these small companies.
The experiences of the participating businesses in drawing up and implementing changeover plans, and in identifying and dealing with the difficulties which they encounter, will be documented and communicated through a variety of media to the wider business community. The project is based on a proposal by the Loughrea Chamber of Commerce.
The first experiences are already worthwhile. There is naturally a reluctance to be the first to undertake a change out of step with the rest of the country. Because many of these businesses trade locally it is hoped that the burden will be shared. However, they are already meeting a degree of unwillingness to discuss the euro from the wider market, because busy owner-managers see it as work that could be postponed until late 2001. This has therefore flagged an issue for the EMU Business Awareness Campaign.
Some participants had purchased a well-known "shrink-wrap" accounting software package from the UK on the understanding that a "euro-compliant" version would be ready. However, when they approached the supplier for that version at the end of 1999, they were told that there were no definite plans for such a version. Curiously, the version of the software sold in Germany has a euro-calculator built in.
A word of warning should be sounded here. Such calculators are useful, but Ireland is a special case because the national currency unit, the pound (IEP), is heavier than the euro. One euro = £0.787564. Therefore converting euro amounts into IEP and storing those amounts lead to rounding errors in about 21% of currency amounts. Patrick O'Beirne of Systems Modelling Ltd. has made recommendations to Forfás about how SMEs can be guided to work around such problems.
The web site for the Eurotown project of Loughrea is http://www.eurotown-loughrea.ie
---
Our Involvement
Systems Modelling Ltd. are proud to have been associated with the preparation of the euro changeover plan for these four companies:
Beatty Jewellers
Beatty Jewellers employs five people in a large shop housing Claddagh and Celtic Gold, Silver, Crystal, China, Pottery, knitwear and fashions. Services available include:
Tourist Information Point
Bureau De Change
Mail Orders Worldwide
Wards Fuels Loughrea
Ward's Fuels Loughrea Ltd. is a third generation family owned and run company trading for over forty years and now has twelve employees. The companies which make up the Ward Group are :
Ward's Fuels - Solid Fuel Suppliers and Texaco Service Station
Ward Plant - Plant Hire and Sales
Fuel Services - Home Heating Oil and Haulage Contracting
Westcoast Agri - Animal Feed and Farm Supplies
Michael Regan
Michael Regan, Auctioneer, Valuer & Estate Agent, provides a wide range of services which include selling residential and commercial properties, sites, farms and public houses, land/house/apartment letting and also the valuation of properties and lands.As an agent for Irish Permanent, the office also provides saving, lending and personal banking services.
Loughrea Plant and Tool Hire
Loughrea Plant & Tool Hire supplies a large range of plant, tools, lawnmowers and garden tools for hire and for sale from its premises in Loughrea and Gort. Machinery is imported from Holland and a small amount of export trade is carried out, with plant being exported to Northern Ireland. The business provides employment for four people.
Systems Modelling Ltd. Euro Information page
Notes from the National Euro Conference in Loughrea, Ireland on 19 Feb 2001.
Forfás press release: "Business Preparation for Euro is Now Urgent Latest Survey Suggests Many Firms are Behind Schedule Loughrea Project Providing Practical Guide"
Survey Dec 2000 found that:
54% firms have no formal plans for the changeover. 65% intend to switch on 1.1.2002
Sources of information: Banks 68% at the top. Internet only 6%
79% said they would use external staff for IT changeover
83% have not discussed their plans with their customers
49% do not intend to train staff
Types of software used: None 11% Package 45% Customised 17% Purpose designed 13% Combination 13% Therefore 43% cannot rely on off-the-shelf standard package upgrades
58% are checking ("auditing") their software, 42% not. Of that 58%, 81% say it will be sufficient, 19% not.
Case studies presented were:
News'n'Choose newsagents took four months to manually dual price 150,000 items. The proprietor, Leo McGuinness, says that the most important requirement for retailers and their staff in Jan 2002 is a sense of humour. Pricing issues remain (the penny sweet), but as he is across the road from the bank he sees no cash problems.
Gerard Dervan has a retail fashion business. Started dual price labelling in Feb 2000, expects to finish next month. Accounts software not yet ready. Awaiting an upgrade in time to change base in Jan 2002. Worries about cost of handling extra change, banks have assured him they have "elaborate plans to assess our requirements for the new currency". Needed to upgrade pricing labellers and EPOS system.
Maura Conroy of Irish Drilling (45 people) said she had to manually start a new system in euro because their accounting package did not have a conversion procedure. Some rounding problems in payroll and Lotto syndicate calculations caused confusion and needed understanding.
For more info see www.eurotown-loughrea.ie and www.emuaware.forfas.ie