TRINET PROJECT
BACKGROUND
The Informatics Development Institute (IDI) is a not-for-profit company, established in Ireland, with the mission of furthering the global development of both information and communications technologies, and researching their socio-economic impact. The mission is the provision of cost-effective communications for remote regions of developing countries.
In 1999 the IDI secured European Commission backing for a communications network project, entitled TRINET, targeted at developing countries in Africa. Current partners are located in Ghana, Uganda, Zambia, and Zimbabwe, and use a low-earth-orbiting satellite (LEOSAT) for store-and-forward email communication using amateur packet radio technology, and internet email gateways in developed countries.
The management summary of the final report can be obtained on request as a 7 page PDF file.
We are seeking to contact other interested parties in order to prepare proposals for a continuation of TRINET. If you can offer technology expertise in the area of low-cost satellite communications, please download the report summary above and then contact us for further discussions.
For updated information please visit:
www.InformaticsDevelopmentInstitute.net
Email info at InformaticsDevelopmentInstitute dot net
or if that's too long to type, we have a shortcut: Info at I-D-I dot net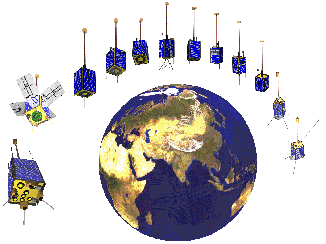 INTERNATIONAL PARTNERS:
University for Science and Technology Bulawayo
Contact: Clement Dzidonu
Council for Scientific and Industrial Research, Accra, Ghana
Contact: Professor W S Alhassan Director-General
National Agricultural Research Organisation, Entebbe, Uganda
Contact: Professor Joseph Mukiibi Director-General
Copperbelt University, Kitwe, Zambia
Contact: Dr John Lungu Deputy Vice-Chancellor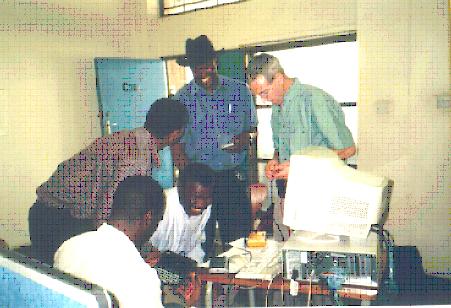 One of the training sessions during the TRINET Workshop, held in Copperbelt University, Kitwe, ZAMBIA, in October 2001. Mr. Tom Fallon from IDI/Dublin Institute of Technology is on the right. The attendees are from CSIR (Ghana), NARO (Uganda), NUST (Zimbabwe), and CBU (Zambia).
---
---
Related Links
Keplerian Elements
The AMSAT website has amateur satellite data and the keplers are updated at:
http://www.amsat.org/amsat/ftp/keps/current/
On celestrak.com you can get the keps for almost everything that flies at http://www.celestrak.com/NORAD/elements/
The Posat Two-Line-Elements (TLE keps) can be downloaded in http://www.celestrak.com/NORAD/elements/amateur.txt
The Healthsat keps are at http://www.celestrak.com/NORAD/elements/x-comm.txt
and there you will find "Healthsat 1". It is incorrectly labeled but object
22827 is HS-2.

Not related to the above, but for general interest, the NASA website tracks the shuttle and other famous satellites at http://liftoff.msfc.nasa.gov/RealTime/JTrack/Spacecraft.html

---
Development Links
http://www.europaworld.org EuropaWorld reports on international development and humanitarian actions of European institutions, Governments and NGOs, including European based United Nations agencies. Europaworld is a free, downloadable weekly newspaper covering development and humanitarian actions by European institutions.
http://www.euforic.org/ Euforic: Platform for debate and information on Europe's international development cooperation, with thousands of full-text resources from more than 55 organisations.


The Afrik-IT mailing list:
To subscribe to AFRIK-IT† you send a email to LISTSERV(at)LISTSERV(dot)HEA(dot)IE with
this command in the body of your mail:

†††† SUBSCRIBE AFRIK-IT firstname lastname
Global Knowledge for Development (GKD) mail list
Global Knowledge for Development (GKD) is a moderated discussion list that examines how information/communications technologies (ICTs) can contribute to developing countries' efforts to improve economic, social and political conditions for their people. Supported by UNDP, the World Bank, and UNESCO, GKD has 1000+ members from 78 countries around the world, with significant representation from developing countries. Launched in April 1997, in support of the Global Knowledge Conference (Toronto, June 1997), GKD was considered by conference evaluators to be "one of the most exciting and interesting aspects of the conference." GKD continues to provide a unique and important forum for a vibrant discussion of issues related to ICTs and development.
HOW TO JOIN THE <GKD> LIST

Anyone who has electronic mail with Internet access can subscribe to
the GKD List. To join, please send an e-mail to the LISTSERV host:

†††† majordomo(at)tristram(dot)edc(dot)org

Do *not* enter a subject.† In the body of the message, type the text:

†††† subscribe gkd

Do *not* put anything after <gkd>.† You will receive a Welcome Letter to the GKD List.
WORLD WIDE WEB SITES FOR THE GKD DISCUSSION LIST
The Global Knowledge for Development Partnership web site
http://www.globalknowledge.org provides information about the
Global Knowledge list, as well as archives of GKD messages.
The World Bank web site http://www.worldbank.org provides
access to the GKD archives as well as related material and
presentations.
WORKING GROUP ADMINISTRATOR
GKD is administered and moderated by the Education Development Center
(EDC), a nonprofit organization.† EDC is directly supported by UNDP, UNESCO, the World Bank and the Global Knowledge Partnership for the activities in this project.

[Si vous desirez recevoir ce message en francais, merci de contacter
<gkd-mod(at)tristram(dot)edc(dot)org>]
[Si desea recibir este mensaje en espanol, por favor contactar:
<gkd-mod(at)tristram(dot)edc(dot)org>]