PraxIS Oct. 2009
09-10 Contents: Fraud, Security, XLTest 1.09 released
ISSN 1649-2374 This issue online at http://www.sysmod.com/praxis/prax0910.htm [Previous] [Index] [Next]
Systems Modelling Ltd.: Managing reality in Information Systems - strategies for success

IN THIS ISSUE

1)

Risk


Fraud check list
"What am I supposed to do with this security prompt?"


2) Spreadsheets
Guidelines for Spreadsheet Development
Excel User Conference UK Oct 7,8


3) XLTEST Spreadsheet Checking Add-In
Version 1.09 released


5 Web links in this newsletter

About this newsletter and Archives
Disclaimer
Subscribe and Unsubscribe information
Welcome to PraxIS
This month, XLTest 1.09 is released! It assists Excel users and developers to check the quality of their work.

Patrick O'Beirne
____________________________________________________________
____________________________________________________________
1) IT Risk
Fraud Check list
http://www.acfe.com/newsletters/fraudinfo.asp?copy=sponsored-09-09-09
Seven Steps to Tackle Fraud Using Data Analytics
Dustin Lewis, CISA, Senior Technical Consultant, ACL Services Ltd.
With data analysis, you can identify and monitor business risks to ensure you are auditing today's risks, not yesterday's. Consider these:

Revenue by location, division or product line
Revenue backlogs - by value and age
Personnel changes in key positions (legal, controller, R&D)
Volume of manual JEs or credit notes
Aging A/R balances or Inventory levels
Vendor management (# vendors, volume of transactions)
PCard vs. PO procurement
Average days for customer payment
"What am I supposed to do with this security prompt?"
http://www.enisa.europa.eu/publications/eqr/
The latest edition of ENISA Quarterly Review, 3rd Quarter 2009, is available online. It includes an article "AWARENESS AND END-USER ISSUES; End-user Security: Misused and Misunderstood?". The author is Prof. Steven Furnell who leads the Centre for Security, Communications & Network Research at the University of Plymouth, UK.
He says that "users are often asked to accept the existence of threats that they cannot see and to protect against risks that they do not really understand. ... evidence suggests that users are frequently ill-equipped to deal with security events, particularly when handling them requires a decision to be made. In one study, almost 90 system-initiated events were recorded and in 16% of cases users reported being 'totally unclear' on what had happened and/or what they were supposed to do, with a further 23% reporting that the event was 'mostly unclear'. From almost 30 user-initiated events, the situation was even worse, with 31% 'totally unclear' and 21% 'mostly clear', and users being able to complete their intended action in only 62% of cases. A University of Plymouth survey of 259 home-users reported
44% did not know if they were using encryption on their wireless network, with a further 15% reporting that they were not using it
35% did not know whether their antivirus solution also provided protection against spyware
19% were unaware of whether they were using spam filters
17% did not know what their firewall does, while a further 22% did not know where to find the related configuration settings
12% reported that they did not know about backing up their data, with a further 33% reporting that they did not do it.
____________________________________________________________
____________________________________________________________
2) Spreadsheets
Guidelines for Spreadsheet Development
Stephen Aldridge of Numeritas posted to the LinkedIn group a set of guidelines, cutely entitled SCILS to rhyme with "skills".
http://www.numeritas.co.uk/files/SCILS_whitepaper.pdf
"Trying to apply a set of principles for any spreadsheet use is difficult, given the diversity of use, however for financial modelling, we have established a set of guiding principles to keep things orderly and minimise error." These are:

Separation
Consistency
Integrity
Linearity
Simplicity
Excel User Conference UK Oct 7,8
http://excelusergroup.org/blogs/nickhodge/archive/2009/10/02/excel-user-conference-next-week.aspx

Bob, Charles, Simon, Andy, Roger and Nick are presenting another free series of courses at Microsoft's Office in Cardinal Place, London for 2 days on October 7th/8th. "This is a repeat of the hugely oversubscribed event in April where we had over 120 reserves who places couldn't be found for. So far we have around 100 attending so places left for around another 20 on either or both days. If you fancy coming along to this great FREE event (except accommodation and evening entertainment) then drop a line to bookings at excelusergroup dot org. "

_______________________________________________________
_______________________________________________________
XLTest: Spreadsheet testing and quality check add-in
XLTest helps you to test the integrity of your spreadsheets far more quickly than tedious cell-by-cell inspection.
Buy XLTest for Excel 2003 via Paypal. This also works in the Add-In tab of Excel 2007
If you own the book "Spreadsheet Check and Control" you get back the cost of the book - save 30 euro! Simply enter into the discount code box below the first word on the top left of page 131.
If you own the spreadsheet inventory/assessment workbook ScanXLS you can save 60 euro! Simply enter into the discount code box below your license number.
Sorry, there is no combined discount! This offer is available for only a limited period.
To learn more, download the 19-page set of screenshots (1MB PDF) showing you what it does.
XLTest will be sent by email in a zip file with documentation and sample workbooks. If your email system blocks zip files, please contact us to agree an alternative method of delivery.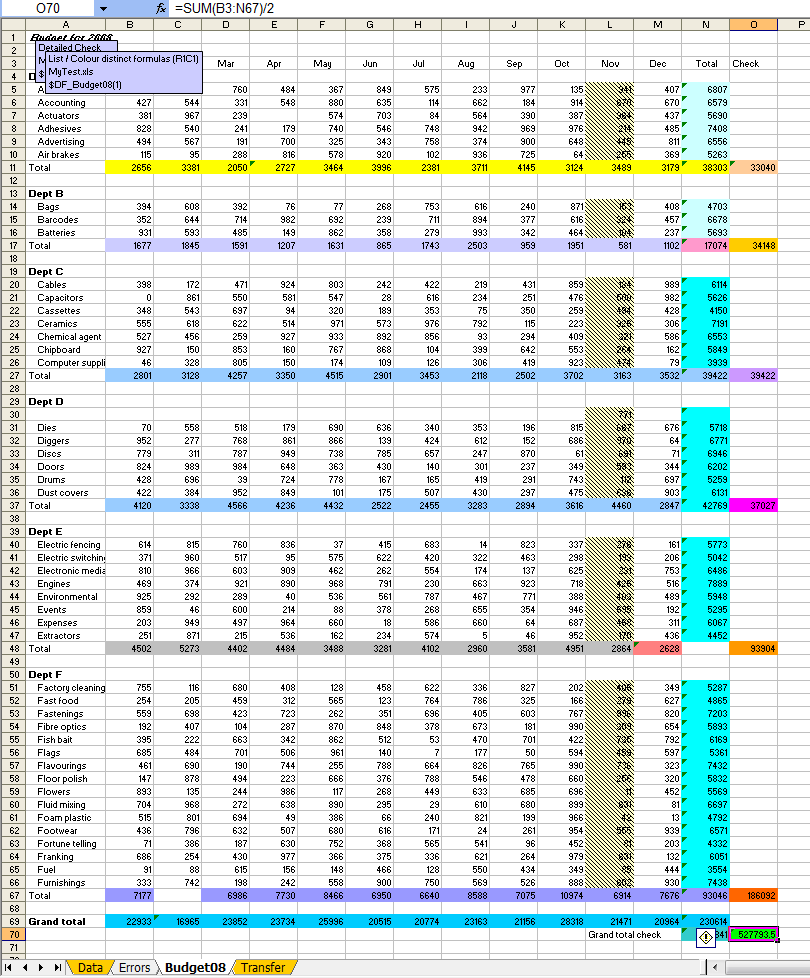 Book: Spreadsheet Check and Control: 47 best practices to detect and prevent errors
____________________________________________________________
____________________________________________________________
FEEDBACK
Simply send your comments to FEEDBACK (at) SYSMOD (dot) COM
Thank you! Patrick O'Beirne, Editor
_______________________________________________________
_______________________________________________________
Copyright (c) Systems Modelling Limited, http://www.sysmod.com . Reproduction allowed provided this copyright notice is included.

We appreciate any feedback or suggestions for improvement. If you have received this newsletter from anybody else, we urge you to sign up for your personal copy by sending a blank email to EuroIS-subscribe (at) yahoogroups (dot) com

For those who would like to do more than receive the monthly newsletter, the EuroIS list makes it easy for you to discuss issues raised, to share experiences with the rest of the group, and to contribute files to a common user community pool independent of the sysmod.com web site. I moderate posts to the EuroIS list, to screen out inappropriate material.

Patrick O'Beirne, Editor
_______________________________________________________
ABOUT THIS NEWSLETTER
"Praxis" means model or example, from the Greek verb "to do". The name is chosen to reflect our focus on practical solutions to IS problems, avoiding hype. If you like acronyms, think of it as "Patrick's reports and analysis across Information Systems".
Please tell a friend about this newsletter.
We especially appreciate a link to www.sysmod.com from your web site!
______________________________________________________
ARCHIVES
To read previous issues of this newsletter please visit our web site at http://www.sysmod.com/praxis.htm

DISCLAIMER
This newsletter is prepared in good faith and the information has been taken from observation and other sources believed to be reliable. Systems Modelling Ltd. (SML) does not represent expressly or by implication the accuracy, truthfulness or reliability of any information provided. It is a condition of use that users accept that SML has no liability for any errors, inaccuracies or omissions. The information is not intended to constitute legal or professional advice. You should consult a professional at Systems Modelling Ltd. directly for advice that is specifically tailored to your particular circumstances.
_______________________________________________________
PRIVACY POLICY:
We guarantee not to sell, trade or give your e-mail address to anyone.
To subscribe to this Newsletter send an email to
EuroIS-subscribe (at) yahoogroups (dot) com
To unsubscribe from this Newsletter send an email to
EuroIS-unsubscribe (at) yahoogroups (dot) com
EuroIS is the distribution list server of the PraxIS newsletter. It also offers a moderated discussion list for readers and a free shared storage area for user-contributed files. The archives of this group are on YahooGroups website http://finance.groups.yahoo.com/group/EuroIS/
_______________________________________________________