EMU Index - the general euro index page with a list of recommended books on the Euro
Euro Calculator to convert currencies, original by Pim van Mun, updated by Patrick O'Beirne
Euro FAQ - answers questions on the technological challenges of euro transition
Euro Software links : symbol, converters, calculators
Euro and EMU Questions answered on EMU, economics, and the euro and web rings
National information Euro Links This page: largely historical but including UK
General Euro Web links non-country-specific web sites and the European Commission
Euro Info: europapers, magazines, and other documents Glossary Euro-papers, Publications
Patrick O'Beirne's Articles on EMU, the euro, I.T. and Information Systems
Euro Workshop: our course outline and speaking engagements on the euro
BASDA Accreditation for euro conversion and our Euro Certification Testing services
National euro information links
This page is maintained by Patrick O'Beirne of sysmod.com, author of the book+CD "Managing the Euro in Information Systems: Strategies for success" (The revision history of this document is at the bottom)
This is a page of national official euro information links. For European Commission, ECB, commercial and other links, see the general Euro Web links page.
Archives of closed euro sites may be found at:
http://europa.eu.int/comm/mediatheque/multimedia/archive/index.htm "Since it was decided to launch a single currency in Europe, numerous Internet sites dealing with the euro have been set up by individuals, institutions, companies, etc. In order to keep this Internet memory of the euro alive, the Directorate General Economic and Financial Affairs of the European Commission has decided to store all these documents –whether merely informative, in favour of or against the euro currency - in an electronic archival resource, Euro-Archives, which aims to make all points of view on the euro accessible to the widest possible audience."
National official sites (Government, academic, chambers of commerce)
EU: Austria, Belgium, Denmark, Finland, France, Germany, Greece, Ireland, Italy, Luxembourg, Netherlands, Portugal, Spain, Sweden, United Kingdom/Britain. Updated after EU enlargement, 1st May 2004: Cyprus, Czech Republic, Estonia, Hungary, Latvia, Lithuania, Malta, Poland, Slovakia, Slovenia
Other: Bulgaria, Romania, Turkey, Croatia, Norway, Switzerland, Iceland, Russia, South Africa, Latin America, Paraguay, Australia, Canada, U.S.A.
If you have any sites to suggest especially in the countries without many links below, please use the feedback form. Equally, if you find that any of these sites do NOT contain useful information on the euro, please contact us to have them removed, and keep this a high-quality directory. Thanks!
ISO Codes:

Eurozone countries: AT:Austria; BE:Belgium; DE:Germany; ES:Spain; FI:Finland; FR:France; GR:Greece; IE:Ireland; IT:Italy; LU:Luxembourg; NL:Netherlands; PT:Portugal;

See map below for all EU countries after enlargement, 1 May 2004.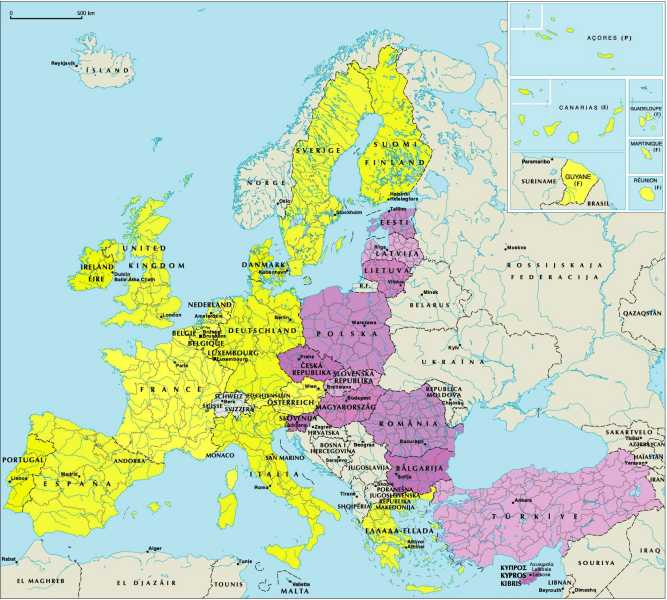 Source: EU Mediatheque (click to enlarge)
Geopolitical and regional map of Europe with 25 Member States
For more information on national currency codes, fixed euro conversion rates, and other Frequently Asked Questions, see the EMU Euro FAQ
---
Although many of these websites have a .be domain because they are located in Brussels, these are head offices of European-wide bodies and so are listed in the International Links page rather than here under Belgium.
National Official pages
www.oenb.at/ Oesterreichische Nationalbank (Central Bank) with ready-made PDF and PPT presentations targeting banks, businesses, consumers and journalists.
www.oenb.co.at/ Tel 00 43 1 514 33 2226 (euro hotline)
www.bmwa.gv.at/ Wirtschaftsministerium (Economics Ministry)
www.euro.gv.at Österreichische Bundesregierung
www.euro-info.net/ Österreichische Gesellschaft für Europapolitik: Euro - Info - Net
www.iv-net.at/ Vereinigung der österreichischen Industrie - Europa-Informationen (Federation of Austrian Industry)
www.iv-eic.at (offline Aug 2002) EURO, Förderungen, Euro-Umstellung - das EIC garantiert fundierte Beratung
wko.at/euro Wirtschaftskammer Österreich, Euro-Homepage (Chambers of Industry)
www.donau-uni.ac.at/de/organisation/euro_einleitung.html
The Departement of European Integration is an interdisciplinary institution of the Donau-Universität Krems, specializing in European Union Law, European business and economics, as well as European politics.
www.eurolexikon.at Kammer der Wirtschaftstreuhänder
www.wu-wien.ac.at/wwwu/institute/handel/tafel.html EuroCalculus (in German) had an Excel spreadsheet to perform calculations of euro cash requirements for retailers.
http://augenblix.wu-wien.ac.at/wwwu/institute/handel/eurobericht.html
Peter Schnedlitz/Rupert Nagler/Christoph Teller Projektkurzbericht Euro - Day 1. Januar 2002 (gone Apr 2003)
www.stuzza.at/EuroCalculus1V1.exe Tool zur Wechselgeldberechnung für die duale Währungsphase (link dead Feb 2002)

www.euro.fgov.be Official euro site.
www.eurotribu.fgov.be for young people
belgium.fgov.be/ Ministry of Finance
www.bnb.be Belgian National Bank
www.itworks.be/bookmark/euro/index.html The Belgian IT Works site
www.dad.be/eurocoach/links/default.htm The Eurocoach project, to promote the exchange of information and good practice between Chamber Euro experts.
www.ceps.be/ Centre for European policy studies
www.eurochallenger.be Site dates from 1999, glossary and links. (offline May 2004)
Delegation of the European Commission in Cyprus http://www.delcyp.cec.eu.int/
Government of the Republic of Cyprus http://www.cyprus.gov.cy/
Trade Department of the Ministry of Commerce, Industry and Tourism http://www.cyprustrade.gov.cy/
General http://www.pio.gov.cy/
Delegation of the European Commission in the Czech Republic http://www.evropska-unie.cz/
Government of the Czech Republic http://www.vlada.cz/1250/eng/vlada/vlada_clenove.htm
Czech Invest http://www.czechinvest.cz/
General http://www.czech.cz/
(Referendum on Sep. 28 2000 rejected joining the euro by 53% to 47%)
www.oem.dk (Ministry of Economic Affairs) Tel: 00 45 33 92 49 62 Fax: 00 45 33 92 41 63
www.europasider.dk EuropaSider indeholder links til materialer om EU og europæiske forhold
www.eu-afstemning.dk The EU information office of the Danish Parliament, Questions and Answers (Spørgsmål & Svar). (Offline Dec 2001)
www.dr.dk/euro/ EURO - DR Nyheder Online
www.europa-kommissionen.dk Europa-Kommissionen (no such host Apr 2002)
www.di.dk/di/emu/ ØMUen og industrien (very slow site, lots of Java)
www.nationalbanken.dk/ National Bank
http://users.skynet.be/emu/ EURO HÅNDBOGEN Indgange til ØMU-debatten - Entries to the EMU debate.
www.eurodebat.dk – Kritisk debatforum om ØMUen
www.solroed-gym.dk/inger/samfundskundskab.htm many Danish links
www.euroskepsis.ee/lingid.htm appears to be euro-skeptic
Delegation of the European Commission in Estonia http://www.euroopaliit.ee/
Government of Estonia http://www.riik.ee/government/
Estonian Investment Agency http://www.eia.ee/index_eng.php3
General http://www.inyourpocket.com/Estonia/index.shtml
History and culture http://www.einst.ee/
www.bof.fi/env/eng/kasi/euroen.stm (offline Aug 2002) Suomen Pankki (Central Bank)
www.euro.fi Central Chamber of Commerce Tel: 00 358 969 69 69 Fax: 00 358 965 03 03
www.kuluttajavirasto.fi/tietoa/euro/index.html (offline Aug 2002) Consumer agency
www.vn.fi/vm/english/mof.htm Finnish Foreign Trade Associations Tel: 00 358 9 1992 Fax: 00 358 20 469 55 35 (not found Feb 2004)
www.vn.fi/vn/vm/english/emu/index.html Ministry of Finance EMU Plan for Adoption of the Euro 2001/2002 (offline May 2004)
www.edu.fi/euro Educational site
www.tt.fi./english/emuandeuro/ The Confederation of Finnish Industry and Employers (offline Feb 2003)
www.eurooppa-tiedotus.fi/eupeli/index.html (offline Aug 2002) Series of games about the European Union and the euro targeted at young people (Ministry of Foreign Affairs).
www.freenet.hut.fi/wsoy/varikas_eurooppa/3.html The European Union, including the Maastricht Treaty, EMU and the euro (WSOY). (not found Aug 2002)
www.euro.gouv.fr French information campaign focusing on establishing reference values for prices in euro, results of surveys on the impact of the campaign.
www.banque-france.fr/gb/euro/main.htm Banque de France (Central Bank)
www.finances.gouv.fr/euro Finance Ministry
www.matif.fr/index4.htm MATIF The interest-rate, equity and commodities derivative markets (offline May'04)
www.info-europe.fr Public information and educational. Vivre avec l'euro, actualites, outils, sites web forums, initiatives d'information, supports pedagogiques.
www.educnet.education.fr/ses/prat/europe.htm Le Programme de la classe de Terminale en sciences économiques et sociales
www.euro-institut.org/ L'Institut de l'euro analyse les aspects institutionnels, économiques, techniques et juridiques de l'introduction de la monnaie unique dans l'Union européenne.
www.mfsite.com/eurocible/ (offline Aug 2002) 120 questions pour réussir l'euro ! permettra d'évaluer étape par étape, le niveau de conformité à la monnaie unique des structures de votre entreprise.
www.afecei.asso.fr/fr/euro/euro.htm Association Française des Établissements de Crédit et des Entreprises d'Investissement; Articles & Dossiers; Basculement à l'euro scriptural des entreprises...
www.euro-expert.com Ordre des Experts-Comptables links to "Vérifiez les fonctionnalités euro de vos logiciels", a web site hosted by IBM France that comprises software suppliers' details of euro compliance.
www.bundesfinanzministerium.de/ Finance Ministry. A report of the inter-ministerial working group on EMU preparations. A comprehensive rundown of every aspect of German preparations.
www.bmwi.de Federal Ministry of Economics and Technology
www.bundesbank.de Deutsche Bundesbank (Central Bank). Under Euro-info, a series of new quizzes on the cash, which increase in difficulty.
www.bib.uni-mannheim.de/bereiche/edz (german) (english) University of Mannheim Euro Documentation Centre (EDC)
www.buergerforum-europa.de Bürger FORUM Europa e.V.
www.bundesregierung.de German Industrial and Trade Association Tel 00 49 0228 1040
www.berlinonline.de/wirtschaft/euro/ BerlinOnline: Wirtschaft; info on the Euro at the BerlinOnline's Economics site. (gone Apr 2003)
www.berlin.de/home/Wirtschaft/GeldEtFinanzen/EuroInfo/ Für Sie als Bürger, aber auch als Unternehmer und Berliner Verwaltungsmitarbeiter werden sich immer wieder Fragen zur neuen gemeinsamen Währung auftun. Wir geben Ihnen die Antworten. The initiative of several German public and private institutions and provides information on the euro topic. (gone Apr 2003)
www.schlafmuenzen.de Website zur Auftaktaktion der Deutschen Bundesbank sowie aller Banken und Sparkassen zur Euro-Bargeldeinführung "Her mit den Schlafmünzen". Details of the German campaign to collect hoarded coins.(private Aug'04)

Joined EMU Phase II on Jan 1, 2001.
www.ypetho.gr/ Ministry of national economy. Euro National Coordination Committee, Syntagma Square, Nikisstreet 5-7, 10180 Athens. Tel: +30/1-333-2750 Fax :+ 30/1-333-2760. Information on the euro in Greek.
http://europa.eu.int/hellas/2forall/2.1euro.htm European Commission, Representation in Greece euro information. Áíáêïßíùóç: Ôï Åõñþ êáé ïé åõÜëùôåò êïéíùíéêÝò ïìÜäåò
www.bankofgreece.gr/euro Bank of Greece also in English
www.adex.ase.gr/AdexHomeEN/index.html Athens derivative exchange S.A. document on discussions between ADEX, ADECH and ASYK concerning the transition to Euro.
www.mof-glk.gr Ministry of Finance, General Accounting Office, on the redenomination of public debt and the coins & banknotes.
www.hba.gr Hellenic Bank Association.
http://www.fgi.org.gr Federation of Greek Industry.
www.greece.gr/BUSINESS/index.htm#Emu The "Greece Now" site contains reports from banks on the implications of Greece's accession to EMU.
www.abnamro.com/download/eeu130400.pdf ABN AMRO article on Greek convergence.
www.euro-hellas.gr Information in Greek on the euro. (no such host Apr 2002)
www.acci.gr/ Athens Chamber of Commerce and Industry (no such host Dec 2003)
www.chamberofkavala.gr/ Chamber of Kavala is a Euro Info Centre, information in Greek only except for trade announcements.
www.itd.hu ITD Hungary (Investment and Trade Development Agency) INFORMÁCIÓK AZ EURÓPAI UNIÓRÓL AZ INTERNETEN, Magyarországon.
euroinfo.hu/ Euro Info Service
Delegation of the European Commission in Hungary http://www.eudelegation.hu/
Government of Hungary http://www.meh.hu/
Hungarian Central Statistical Office http://www.ksh.hu/pls/ksh/docs/index_eng.html
General, Hungarian National Tourist Office http://www.hungarytourism.hu/
Culture and history http://www.mfa.gov.hu/
www.euro.ie and www.irlgov.ie/ecbi-euro/ Ireland's National Changeover Board Tel 00 353 1 639 6200 LoCall 1890 20 10 50. 'EMU and the euro: Ireland's National Changeover Plan' is available there.
www.emuaware.forfas.ie was the EMUAware site of the Irish Government's Technology Advisory Agency (Forfás). (+353)(0)1 607 3299 LoCall: 1890 208 308. They ran the Loughrea Eurotown experiment, performed surveys on the takeup of the euro, and provide information, training packs, and sponsor seminars.
www.eurotown-loughrea.ie has case studies for thirty Small and Medium Enterprises (SME) participating in the Eurotown project in Loughrea, Co. Galway, Ireland. (not found Feb 2004)
www.icai.ie The Institute of Chartered Accountants in Ireland had a booklet The euro - changeover issue for business (not found June 2003)
www.centralbank.ie Central Bank of Ireland
www.odca.ie/euro_index.htm The Office of the Director of Consumer Affairs included the national code of practice for dual pricing (offline 2003)
www.revenue.ie/services/euroserv/euro.htm Revenue Comissioners information on tax and customs aspects of the switchover, tax receipts Tel: 00 353 1 702 4148 (not found Feb 2004)
www.irlgov.ie/finance Department of Finance Tel 00 353 1 676 7571 Fax: 00 353 1 678 9936 LoCall: 1890 661010
http://www.ibec.ie/ The Irish Business & Employer's Confederation (IBEC) had analysis on the implications for business in general, human resources, collective bargaining, and the economy. The Irish Business Bureau is the EU office of IBEC.
www.eic.ie Euro Info Centres
www.chambersireland.com/ Chambers of Commerce in Ireland
www.iiea.com The Institute of European Affairs was founded in 1991 as a self-governing body devoted to the study of Irish policy on European integration. It is a forum where politicians, public servants, representatives of business, agriculture, the trade unions, the media and academia, can discuss and evaluate the long-term options for Ireland within Europe.
www.europeanmovement.ie The European Movement - Ireland is an independent voluntary organisation, which exists to promote the economic, political and social development of Europe.
www.euireland.ie The European Commission in Ireland. EU information directly relevant to Ireland, a schools page in English and Irish, with details of European learning aids.
www.sysmod.com/sgill_thesis.pdf (297K) Economic and Strategic Impacts of EMU for the Irish Dairy Industry: MBA thesis by Stephen Gill (now with PWC in Ireland), September 1998.
www.tesoro.it Finance Ministry
www.mi.camcom.it/euro La Camera di Commercio di Milano e l'euro (not found Aug 2002)
eurolandia.tin.it/euro/index.html Eurolandia is an Italian website on the Euro for students and teachers, also available in English. (Offline Dec 2001)
www.portalino.it/banks/euro/index.htm The principal sites of Euro in Italy on Miran Pecenik's page.
www.banksiel.it/ Presentazione, Offerta, Forum, Domande all'Eurotutor, FAQ, Assistenza Euro, Link, Redazioni Euro, News, Eventi & Seminari, Curiosità
Delegation of the European Commission in Latvia http://www.eiropainfo.lv/
Ministry of Foreign Affairs, Latvia http://www.mfa.gov.lv/
Latvian Chamber of Commerce and Industry http://www.chamber.lv/
General http://www.latinst.lv/
Culture and History http://www.latviansonline.com/
Delegation of the European Commission in Lithuania http://www.eudel.lt/
Ministry of Foreign Affairs, Lithuania http://www.urm.lt/
General http://www.on.lt/
http://www.lithuanian.net/resource/index.html
Lithuanian Development Agency http://www.lda.lt/
Culture and History http://www.kpc.lt/
www.bcl.lu/ Banque centrale du Luxembourg
www.etat.lu euro helpline Tel 00 352 478 2641/2608
Delegation of the European Commission in Malta http://www.delmlt.cec.eu.int/
Ministry of Foreign Affairs, Malta http://www.foreign.gov.mt/mfahome.asp
Malta Development Corporation http://www.investinmalta.com/
Culture and History http://www.education.gov.mt
www.dnb.nl De Nederlandsche Bank (Central Bank)
www.euro.nl The Dutch National Forum for Euro Transition
www.minfin.nl Dutch Ministry of Finance
www.xs4all.nl/~doornh/ Han Van Doorn "Y2K Solutions" in the Netherlands focuses on Year 2000 and Euro issues. Surveys, cost estimates, and alternative strategies.
www.euro-2002.nl/ site van Interpay Nederland over de euro. Op deze site vindt u alle actuele informatie over uw betaalautomaat en de euro.
www.let.leidenuniv.nl/history/rtg/res1/index.htm History of European Integration From Leiden University, Department of History, including bibliographies, oral histories, statistic sources, timelines, and other resources on European integration past and present.
www.euro-exchange.org Exchange was a Eurocities project supported by the European Commission under its Prince programme for information activities on the introduction of the single currency. It featured a "Guide to strategic basic principles for the transition to the euro by local authorities".
www.euroinfo.org.pl/ Centra Euro Info w Polsce
www.warsawvoice.com.pl Warsaw Voice Journal
www.chamberofcommerce.com.pl Poland's Import Export Chamber Gateway, maintained by Masterpage
Delegation of the European Commission in Poland http://www.europa.delpol.pl/
Ministry of Foreign Affairs, Poland http://www.msz.gov.pl/
Polish Agency for Foreign Investment http://www.paiz.gov.pl/index/
General http://www.poland.pl/
Culture and History http://www.culture.pl/
www.bportugal.pt/euro/euro_p.htm Banco de Portugal
www.dgep.pt/ Portuguese Ministry of Finance Tel: 00 01 882 40 00/1/2/3 Fax: 00 01 882 40 10/15
www.euro.iapmei.pt (offline Aug 2002) IAPMEI - Espaço Euro PME
www.infoeuro.pt Site da Comissão Euro do Ministério das Finanças, onde poderá encontrar informações úteis sobre o Euro e as alterações que a sua introdução nos trará.
www.euromesco.net/ Euro-Mediterranean Study Commission
www.ce.pt/ EuroInfo Portugal
Delegation of the European Commission in the Slovak Republic http://www.europa.sk/
The Slovak Republic Government Office http://www.government.gov.sk/english/
Slovak Agency for Foreign Investment http://www.sario.sk/
General http://www.slovacia.com/
Culture and History http://www.slovensko.com/index.htm
Delegation of the European Commission in Slovenia http://www.evropska-unija.si/
Negotiating team for accession of Slovenia to the EU
Government Office for European Affairs, Slovenia http://www.sigov.si/ops/indexeng.html
Slovenia and the European Union http://www.sigov.si/mzz
General http://www.uvi.si/eng/index.html

www.euro.meh.es Tel 00 341 902 11 2002 (Offline Dec 2001)
www.mineco.es/euro/folleto/eu-portada.htm Ministerio de Economía (Ministry of Economics)
www.bde.es Banco d'Espagña
www.cambrescat.es/ Cambres de Comerç de Catalunya
www.xtec.es/euro Catalonian site for teachers
www.gencat.es Generalitat de Catalunya
www.loseurogarcia.net The cartoon characters used in Spain's campaign had their own animated website (offline 2003)
www.caixacatalunya.es/ The Catalan Bank has information in Catalan, Spanish, and English.

(not joining in first wave)
www.riksbank.se/ Sveriges Riksbank (Central Bank)
www.regeringen.se (Ministry of Finance, Euro Co-ordinator) Tel 00 46 8 405 1497
www.finans.regeringen.se/propositionermm/sou/index.htm (Offline May'04) Stabilitet och stabiliseringspolitik i EMU Delbetänkande från kommittén för stabilisering för full sysselsättning vid svenskt medlemskap i valutaunionen, SOU 2001:62.
www.europafokus.com Europafokus - den öppna debatten om Europa
www.eu-byran.se/ Business Info
www.eurofakta.se Prenumerera på Eurofaktas nyhetsbrev Håll dig uppdaterad i EMU-frågan utan kostnad.
http://euro-valuta.com (offline Aug 2002) Regeringskansliet - Euroinformation Informationsinsatsen om praktiska eurofrågor.
(Not in the first wave of EMU. )
www.euro.gov.uk The UK Treasury's euro page. Their publications 'The Pros and Cons of EMU', and 'EMU - Practical Information for Business' are available in pdf form for downloading. They also have case studies and a "thermometer" for SMEs to test their euro impact. http://www.euro.gov.uk/prep_reports.asp HM Treasury's Euro Preparations Unit (latest report Nov 2003)
The Bank of England has practical advice and information downloadable from
www.bankofengland.co.uk/publica.htm#europe
www.bankofengland.co.uk/euro.htm Bank of England PIQ page "Practical Issues Arising from the Euro" has several PDF files covering the Markets, Financial Services, Infrastructure, Preparations for possible UK entry, accession countries exchange rates in transition
www.bankofengland.co.uk/euro/euroweb.htm Links to Accounting / Central Banks / European Union Institutions / Exchanges / First-wave Member States Euro Information / Information Providers / Market Associations / Miscellaneous / Payments, Clearing and Settlement / UK Institutions
http://www.ogc.gov.uk/sdtkdev/examples/HMCE/Gateways/euro_gateways.htm Office of Government Commerce eFoundation provides IT best practices advice and services.
www.dti.gov.uk/europe/europlanner/homepage.htm The Department of Trade and Industry (DTI) has guides and tools in their Euro Planner section.
www.euroforum-ni.org.uk/ Northern Ireland Euro Preparations Forum website. (offline May 2004)
www.hmce.gov.uk Guidance on using the euro in U.K. VAT returns
www.inlandrevenue.gov.uk on the euro and tax.
www.cec.org.uk The European Commission Representation in the United Kingdom.
www.eia.org.uk European Information Association "Developing,co-ordinating and improving access to EU information"
www.icaew.co.uk/euroguide/ The Institute of Chartered Accountants of England and Wales Knowledge Guide to the euro. The Library & Information Service provides a wealth of resources to help members to understand the changes taking place, providing a special current awareness service updated daily targeting further reading with abstracts of new books and articles on the Euro in the accounting sector.
www.cima.org.uk The Chartered Institute of Management Accountants had euro articles on their archive. The site is being re-developed.
www.cbi.org.uk Confederation of British Industry have policy documents for members only.
www.ex.ac.uk/~RDavies/arian/euro.html by Roy Davies of the University of Exeter. His interest is the history of money. Also see his article Britain and European Monetary Union where he states "The Pound Sterling, in contrast to other European currencies, has 1,000 years of history, shaping British attitudes
to monetary union."
www.comp.lancs.ac.uk/emergency/ Lancaster University's Esprit project Renaissance Method Revision. A Method Adoption Report describes the performed study and points out strengths and weaknesses of the adapted Renaissance method when applied to Euro conversion. A set of Powerpoint slides documents a case study on the project.
www.britainineurope.org.uk Britain in Europe campaign publishes pro-Europe papers. Business Case for the Euro; Straight Bananas? 150 anti-European myths exposed; The case for the euro; Making Europe a world class competitor; Out of Europe: the risks.
www.euromove.org.uk The European Movement in Britain
www.cer.org.uk/ Centre for European reform
www.ceg.co.uk/euro.htm Consumers in Europe group are an independent voluntary UK organisation concerned with the effects of European Union policies and proposals on UK consumers (not found Aug 2002)
www.new-europe.co.uk/contents.html Pro-EU Anti-Euro movement
www.keele.ac.uk/socs/ks40/ceghome.html Critical European Group (anti European Integration. Not found June 2003)
www.harvster.net/research/euro.php "How Could British Businesses Be Affected by the Single European Currency?" Salford University thesis by Simon Harvey (gone Apr 2003)
www.uaces.org/ University Association for Contemporary European Studies hold a range of conferences which include topics related to the Euro, have a Contemporary European Studies publication series and a journal, the Journal of Common Market Studies.
www.tradingineuro.com The Scottish Euro Forum has launched the 'Trading in Euro' symbol aimed at Scottish (and UK) businesses that want to demonstrate their readiness and willingness to trade in euro with European partners, irrespective of whether the UK joins the euro or not. Warning: this site uses a plugin for a coin animation and has no plain text fallback; therefore users with high security settings in Internet Explorer browsers will see nothing.
http://taskforce.waleseic.org.uk/index.htm Euro Taskforce for Wales
www.seeaf.co.uk South East England regional euro forum (not found Dec'03)
www.euroforums.org.uk Regional Euro Forums Twelve Regional Euro Forums are operating across the UK, to provide help and advice for businesses at a local level. (offline Aug'04)
www.europreps.co.uk/ West Midlands Euro Preparations Forum (offline 2003)
euro-info.org.uk/ Euro Info Centres (EICs) provide local access to a range of specialist information and advisory services to help companies develop their business in Europe.
www.ipf.co.uk/europe/ Institute of Public Finance has a European page and newsletter.
www.euroinformationnetwork.org.uk The Euro Information Network (EIN) is a domain name that points to the "Euro-In" pro-euro discussion list on egroups.com.
www.yes-campaign.com is the new advocacy and resources site for EIN (above)
http://members.tripod.co.uk/GuidetotheEU/index.html A Guide to the European Union Institutions, Policies, Programmes, Funds & Entry Tests to the EU Institutions ISBN 1871328136 by M. D. Hassiotis
www.sosig.ac.uk/roads/subject-listing/World-cat/theuro.html Social Science Information Gateway (SOSIG) links page maintained by the University of Bristol.


---
EU Candidate Countries
Delegation of the European Commission in Bulgaria http://www.evropa.bg/
Government of the Republic of Bulgaria http://www.government.bg/eng/index.html
Foreign investments agency http://www.bfia.org/
General http://www.bulgaria.com/
Culture and history http://www.historymuseum.org/
Delegation of the European Commission in Romania http://www.infoeuropa.ro/
Government of Romania http://www.gov.ro/
Chamber of Commerce and Industry of Romania http://www.ccir.ro
General http://www.ici.ro/romania/
Culture and History http://domino.kappa.ro/guvern/istoria-e.html
www.ankara.edu.tr/faculties/political/html/eng/iktisat/mainf.html University of Ankara Department of Economics
http://politics.ankara.edu.tr/~kibritci/eurores.html Aykut Kibritcioglu in the University of Ankara has an extensive set of links on European economic integration.
Representation of the European Commission to Turkey http://www.deltur.cec.eu.int/
Ministry of Foreign Affairs, Turkey http://www.mfa.gov.tr/
Under secretariat of Foreign Trade http://www.foreigntrade.gov.tr/engmenu.htm
General http://www.turkey.com/
Culture and History http://www.kultur.gov.tr/

---
odin.dep.no/aad/norsk/publ/rapporter/index-b-n-a.html Euro ODIN, Offentlig Dokumentasjon og Informasjon i Norge
odin.dep.no/aad/norsk/publ/rapporter/002005-990181/index-dok000-b-n-a.html Euro-lenker
odin.dep.no/ud/norsk/europa/politikkomraader/emu/032001-990481/index-dok000-b-n-a.html ØMU og euro inneholder relevant informasjon om ØMU (Den Økonomiske og Monetære Union) og euro.
eic.vestforsk.no/default.htm (not found Apr 2002) Euro Info Centre Vest Vår oppgåve er å informere, gi råd og assistere små og mellomstore bedrifter (SMB) med informasjon og kunnskap om EU/EØS og markedsadgang.
http://ow3.osec.ch:83/eics/index.html Das Euro Info Center Schweiz ist die offizielle Schweizer Vertriebsstelle für alle Veröffentlichungen der Europäischen Union (gone Dec 2002)
http://www.hnb.hr/euro/index.html Croatian National Bank Euro Website
http://www.vecernji-list.hr/EURO/index.html Vecernji list euro information
Russian Federation:
(none)
pacific.commerce.ubc.ca/xr/euro/ "The Euro - Europe's New Currency" by Prof. Werner Antweiler is located at the PACIFIC Exchange Rate Service
www.mun.ca/ceuep/EU-bib.html The European Union Bibliography, 3rd edition, 1999 by Osvaldo Croci Department of Political Science Laurentian University. Please note that this is a BIG file - 645K !
www.eurunion.org/ European Union Delegation of the European Commission to the United States 2300 M Street NW, Washington DC 20037 Telephone: (202) 862-9500 Fax: (202) 429-1766
www.oberlin.edu/~dcleeton/cleeton.htm Dr. Cleeton teaches graduate courses in EMU studies; very good links and its list of academic references is superb, including the Bank for International Settlements - the birthplace of EMU at www.bis.org/ - where there are a lot of good euro-related banking publications available. (gone Dec 2002)
www.econ.yale.edu/~corsetti/euro/Euroit.htm a BIG page (225K) on Economic Policies in EMU, Euro Economic Sources. The Euro Homepage by Giancarlo Corsetti. Prof. Corsetti is part-time assistant professor of economics at Yale University, where he is member of the Economic Growth Center and of Council on European Studies.
www.berry.edu/academic/hass/language/euro/euro_resources.html Evans School of Humanities and Social Sciences (gone Dec 2002)
www.duke.edu/~jmg8/emulinks.htm The Euro Zone Working Page at Duke University (gone Dec 2002)
scout18.cs.wisc.edu/sosig_mirror/roads/subject-listing/Europe-cat/finance.html The University of Wisconsin-Madison Internet Scout project euro links. (not found Aug 2002)
www.eucommittee.be/ the EU committee of the American Chamber of Commerce represents US business interest towards the institutions of the European Union.
http://eucenters.org/ (offline Feb 2002) The Network of European Union Centers, founded by the European Union in 1998, is part of the EU's effort to build stronger ties among Europeans and Americans, and includes ten European Union Centers hosted by academic institutions throughout the United States.
www.ucis.pitt.edu/cwes/index.html Member State Perspective Reports from the European Union Center, the Center for West European Studies of Pittsburgh University
financeservices.about.com/money/financeservices/library/international/bleuro.htm About.com guides to European Monetary Union and the uniform Euro currency
www.acusd.edu/~jnielsen/invest2.html (not found Aug 2002) INVESTING IN THE EURO "As of today it seems more profitable to invest in EU companies than in the Euro itself. But the Euro will gain back some of its value within a year or two, and that is when holding Euro's instead of dollars will make easy money."
www.cpateam.com/accounting-emuandeuro.htm CPATeam - for accountants
www.brookings.org/comm/PolicyBriefs/Pb042/pb42.htm The Brookings Institution: International Effects of the Euro (gone Aug'04)
www.nytimes.com/library/financial/euro-index.html New York times feature before the introduction of the euro (1998)
www.austrade.gov.au/EuropeanUnion/index.asp?PageID=20735 The Australian Government guide for exporters
(None known)
If you have any sites to suggest especially in the countries without links shown, please use the feedback form. Thanks!
---
Revision history:
2004-05-01 EU member list updated after EU enlargement by 10 accession states
2003-08-06 SOSIG (UK) Gateway added
2002-06-21: UK OGC eFoundation
2001-07-22 dead links pruned, consumer agency Finland, BOE link updated.
2001-07-02 UK Yes campaign.
2001-05-14 More sites reported by Euro-Impact magazine
2001-05-01 Euro-exchange.org and Berlin.de added
2001-04-30 UK sites updated
2001-03-19 Added two Finnish sites, Basque govt.
2001-02-15 added ICAI.ie and euroforum-ni.org.uk
2001.02.04 Split off from euro-web.htm. Austria & Germany links added